Aanslaggevoelige toetsen keyboard
Aanslaggevoelige toetsen zijn toetsen waarbij de hardheid van de tonen en geluiden, die uit de speakers van het keyboard komen, wordt bepaald door hoe hard de toetsen van het keyboard worden ingedrukt. Hierdoor ontstaat variatie en dynamiek waardoor je gevoel in een muziekstuk leggen.
Door aanslaggevoelige toetsen kan je dus heel luid maar ook heel zacht en klein keyboard of piano spelen. Toetsen die niet aanslaggevoelig zijn hebben maar één volume niveau bij het indrukken van de toetsen.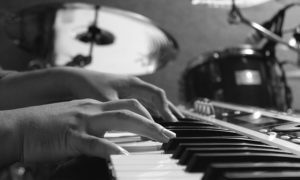 Keyboard / pianoles
Aanslaggevoelige toetsen en minimaal 61 toetsen zijn meestal een minimum eis van muziekscholen voor bijvoorbeeld keyboard- of pianoles.
Niet alle keyboards hebben aanslaggevoelige toetsen. Keyboards vanaf € 250,- a € 300,- zijn vrijwel altijd aanslaggevoelig. Maar let wel goed op of het ook bij de specificaties staat.
Lees ook hoeveel toetsen je minimaal nodig hebt.